John Zehme
Engineering Manager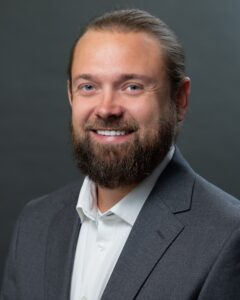 John Zehme is the Engineering Manager for Aearo Technologies. As Engineering Manager, John leads the Applications Engineering, Project Engineering, and Design Engineering groups developing thermal and acoustic system solutions for OEMs in the industrial transportation, aerospace, electronics, and specialty vehicle markets.
John joined Aearo Technologies in 2006 after graduating from Purdue University with a Bachelor of Science degree in acoustical engineering. He began his career as an acoustics lab technician, becoming an Applications Engineer for the general industrial group in 2007. In 2011, John moved into the commercial vehicles group as applications engineer, leading into his next role as the applications engineering manager in 2018. In 2021, John became the engineering manager for applications, project, and design engineers for the industrial transportation team and held that role until 2023, when he assumed his current position.
Outside of work John enjoys spending time with his wife Katie, creating and recording music, traveling, backpacking, camping, biking, running, reading, attending concerts, and hanging out with friends.